---

"A whimsical, interactive foray into the history of storytelling and morality in medieval Armenia."
- Kirkus Review
Foxbook
Medieval & Contemporary Fables from Armenia
Join us in celebrating the 335th anniversary of the original Foxbook's publication with our newly crafted edition, Foxbook: Medieval & Contemporary Fables from Armenia, now available in English for the first time. Originating from the rich storytelling tradition, the Foxbook has been known as the most notable Armenian fable collection, earning its name from the recurring central character in many of these tales.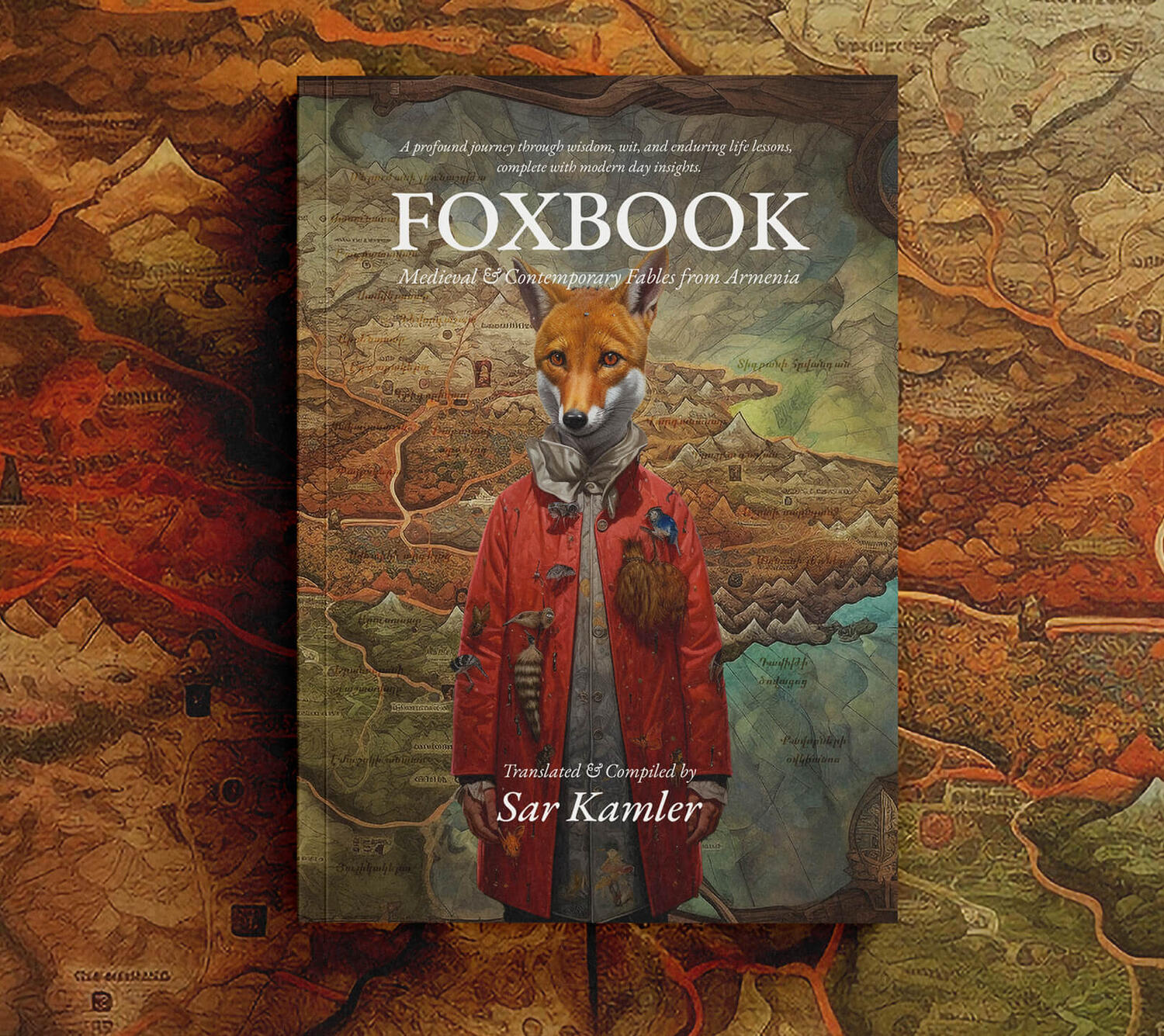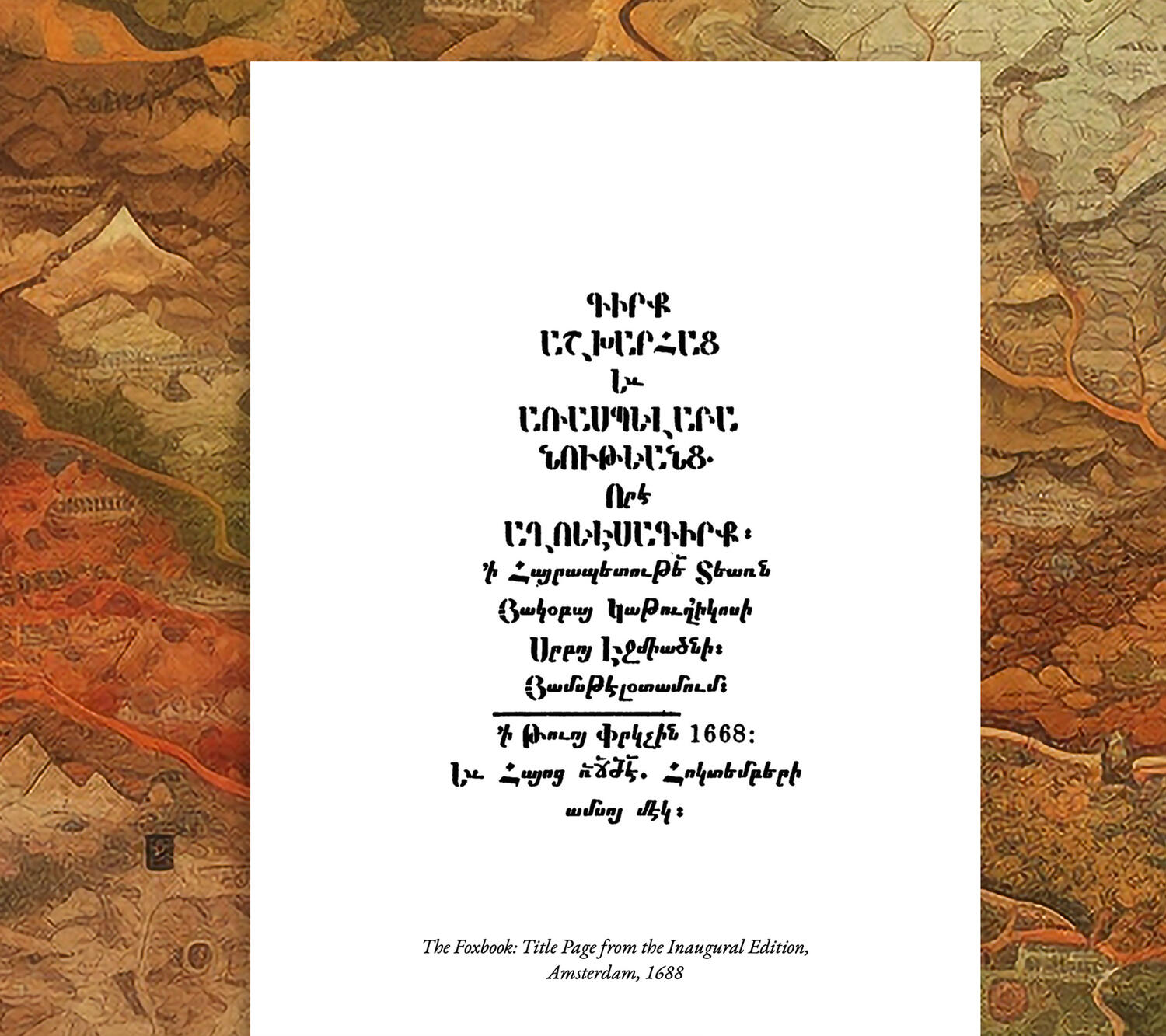 Journey through time
Foxbook's Legacy
The Foxbook's history begins with Vardan Aygektsi, a prominent figure in Armenian history, who incorporated fables into his sermons as a way to captivate his listeners. This novel approach was met with such success that others were inspired to do the same, setting off a trend that saw fables grow in popularity and become a staple in the Armenian storytelling tradition. As more and more stories were added, these collections of fables grew, culminating in the creation of what would become the most celebrated compilation known as the Foxbook. Named after a recurring character that features in many of the tales, the collection was first published in Amsterdam in 1688, marking a significant milestone in the evolution and appreciation of Armenian fables. This anthology continues to serve as a testament to Armenia's rich storytelling tradition, capturing the wisdom of the past while continuing to inspire generations to come.
Mkhitar Gosh
THE OX
An ox ran away from the plow's yoke, and being caught by the plowman, was brought to the threshing floor. Escaping from there, he was harnessed to a carriage, but managed to break free again. However, he was captured and used for various tasks. Eventually, he realized that escape was impossible and reconciled himself to his situation, no longer attempting to run away.
Original Moral
For those who wish to spend their time in idleness and without purpose, a piece of advice: constantly change tasks until you find one that suits you. Being idle in society is impossible.
Vardan Aygektsi
A TRADER'S PRAYER
A man prayed to God to send him 100 drams, and said, "If you give me 100 drams, then I will give you ten for lamp oil." And by God's will, one day, he found ninety drams and said, "God, my creator, it is very clever of you to have held onto your ten drams for oil, and then to give me 100 drams without them."
Modern Insight
People often will make promises in exchange for something. But often, when they get what they want, they will find ways not to fulfill them. It's important to remember our commitments and be true to our word.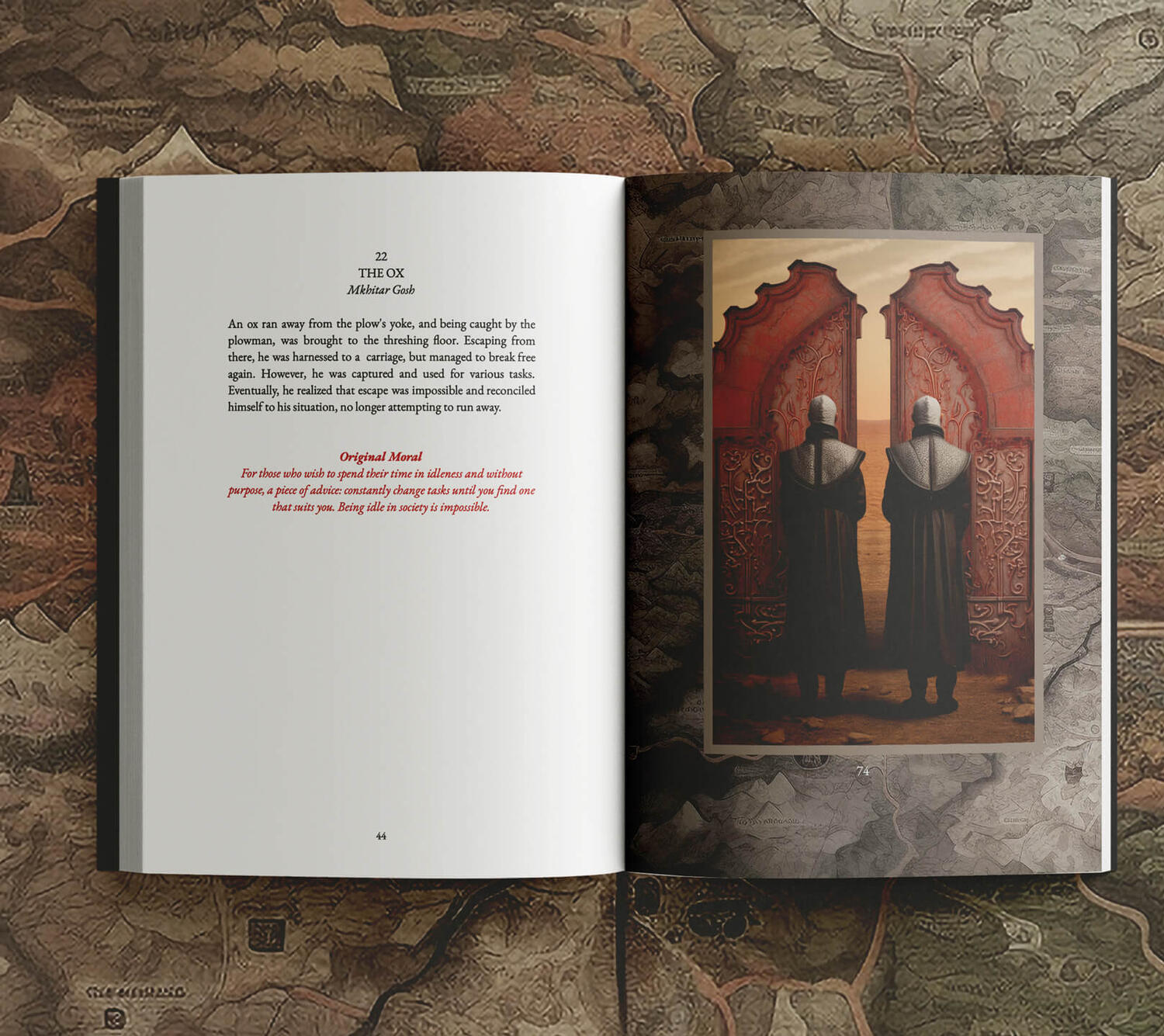 A Timeless Journey Renewed
Foxbook: The Rebirth
Fast forward 335 years, and the Foxbook is being given a fresh breath of life. For the first time, this celebrated collection of Armenian fables is available in the English, bringing together the timeless wisdom and storytelling power of Vardan Aygektsi and another revered Armenian fabulist, Mkhitar Gosh. With over 200 captivating fables, this beautifully illustrated edition is inviting readers into the enchanting world of Armenian folklore. But the Foxbook doesn't stop at the medieval. It boldly extends into the present day with a bonus contemporary fable section written by Sar Kamler, further enriching the collection.
Vardan Aygektsi
GENEROSITY
The story goes that someone came to King Alexander, who was very generous and asked him for a favor, and Alexander gave him a beautiful city. And the princes asked him, "Why did you give it to him? This man is not worthy of such a city." The king said, "Even though he is not worthy, I have to give him beautiful things because I am generous."
Modern Insight
To truly embody generosity, it's important to give
without expecting anything in return. Follow your heart and give freely if it feels right.
Sar Kamler
SPRUCE AND MAGNOLIA
Spruce and magnolia trees grew side by side in the same front yard. One spring day, the spruce said to the magnolia, "Your blooms are stunning, but they only last for a short time. You only bloom once a year, while my beauty is year-round." The magnolia replied, "My beauty may be fleeting, but it is highly anticipated. Your beauty may be evergreen, but it's commonplace to the eye."
Modern Insight
When we are surrounded by the same things day after day, no matter how stunning they may be, we can become blind to their charms. Take a break. Step aside. Do something else. When you return, you'll see with fresh eyes and appreciate the beauty anew.
Reflect, Grow, and Unravel the Mystery
A Canvas of Color and Wisdom
The new Foxbook is a whole experience. With over 40 striking illustrations, all created using generative AI, the Foxbook brings centuries-old fables into the modern age. These rich, vivid images breathe new life into the tales, painting a beautiful picture of a world filled with timeless wisdom. It's also not just a story collection; it's a tool for self-reflection and personal growth. Throughout the book the reader will find blank pages meant for writing down their thoughts and impressions about the fables. Adding a fun spin of intrigue, there is a riddle hidden within its pages. Solving it uncovers a secret message waiting for the reader at the end.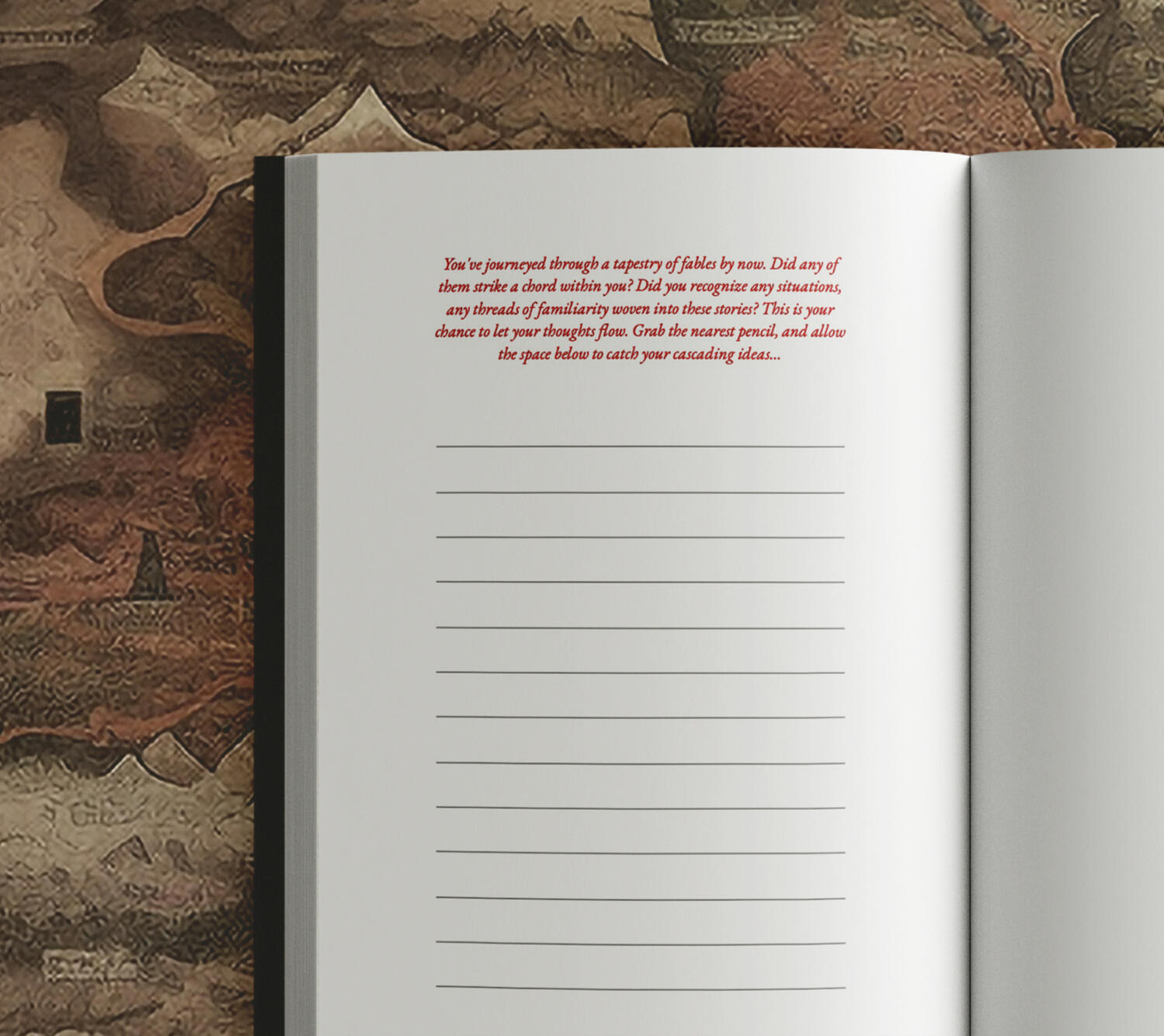 Mkhitar Gosh
Mkhitar Gosh was a prominent Armenian scholar, writer, and public figure from the 12th century. Best known for his Book of Law, Gosh's works remain as influential and cherished elements of Armenian cultural heritage. His tales, full of wisdom and humor, provide moral guidance and showcase the vivid imagination of this medieval thinker.
Vardan Aygektsi
Vardan Aygektsi was an esteemed 13th-century Armenian fabulist and cleric, whose fables have been passed down through generations. Through engaging narratives often featuring animals, Vardan Aygektsi delivered timeless lessons in ethics and values. His influence extends beyond Armenia, contributing to the broader world of fable literature.
Text
Sar Kamler
Sar Kamler is a modern day story-teller, driven by curiosity and a passion for reviving old treasures. His love for the old and the new shines through in his contributions, infusing traditional tales with contemporary insights. This book marks his first effort to enrich people's lives worldwide through the power of storytelling.
---
© 2023 Dudukhouse Inc. All right reserved.